See below for Bio information on speakers that will be at the 2020 Convention.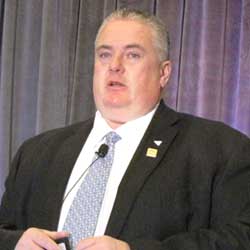 Executive Director's 2019-2020 Report
When I look back at 2019, the year doesn't seem a whole lot different than 2018. Unfortunately, the fed cattle prices have remained tough, and the downturn continued to linger. The recent closure of Ryding-Regency Packers, with the Canadian Food Inspection Agency cancelling their licence, is putting more strain on an already pressured marketplace. Throughout the year, it was extremely difficult, with Ontario running a negative basis, which created a challenging situation.
As producer losses have continued to mount, we're faced with looking at how we address the existing supply issues concerning the number of cattle we have because Ontario has increased its overall cattle production. In the meantime, we continue to work with the other packers in the province who are avid supporters of our program and the Ontario beef industry as a whole.
We're working closely with Beef Farmers of Ontario (BFO) in their efforts to request government action to aid us in resolving the mounting threats facing Ontario's beef farmers and the entire Eastern Canadian cattle sector. Although the Ontario Cattle Feeders' Association is focusing more on beef marketing initiatives, it is essential to have a good working relationship on the lobbying side with BFO because some major political issues affect marketing. If we don't turn these cattle markets around, there's going to be fewer cattle fed, which equates to less demand for feeder cattle, both provincially and nationally. When we're actively promoting our beef, seeking more markets and attracting more interest in Ontario Corn Fed Beef, the last thing we need is to come up short.
In times of challenging markets, I see that the producers have a difficult time recognizing that there is a significant difference between marketing cattle and marketing beef. While sometimes it's easy to interchange the words "cattle" and "beef," they're two different beasts, so to speak, when it comes to marketing. And when times are tough, it's difficult for producers to see how the beef marketing and promotional efforts affect them. But our program is making a difference.
Market analyst Kevin Grier conducted an independent assessment of the Ontario Corn Fed Beef (OCFB) Program in 2018 and shared some of his findings at last year's Convention. Grier concluded that OCFB has been a strong brand and has assisted the beef producers in Ontario and Eastern Canada on prices. Again, it's hard for producers to make that connection because they see the bottom line on their cattle, and they're losing money. But if you remove the demand that has been created for OCFB through the marketing efforts, then how much lower would the prices be?
As for the year ahead, I'm optimistic that cattle prices will turn around on some positive news on the trade front. As I was writing this report, there was the news that Canada, the United States and Mexico reached a deal on CUSMA – the Canada-US-Mexico Agreement. The agreement, which is critical for the North American beef industry, still needs to be ratified by the three countries.
As we watch the progress of CUSMA, it's also vital to keep an eye on the different trade deals that the United States is negotiating with other countries around the world. We see that the U.S. is renegotiating with China. Also, the U.S. completed an agreement with Japan that is similar to our deal that was achieved by the Comprehensive and Progressive Agreement for Trans-Pacific Partnership. I believe these deals look quite favourable for the pork and beef sectors because the American drive to boost exports is going to lift the overall markets for cattle and hogs. So, as it is always darkest before the dawn, I think we're going to see some strong cattle markets once again. While I'm not so sure we'll see a repeat of 2015 when the market surged higher, and the dressed price for beef was a lot higher, I'm quite hopeful and looking forward to what I believe, from the market signals, is strong growth.
At the same time, we're also mindful of other issues on the horizon, namely the new livestock transportation rules and how they will affect our business. The industry recently received some good news as the federal agriculture minister announced that the government will take two years to determine appropriate livestock transport times. The issue is crucial to Eastern Canada and Western feeder cattle producers because we import a lot of feeder cattle from the Prairies.
Meanwhile, as this issue has evolved, more feeder cattle are coming into Ontario from the U.S. as there is a shift to a north-south flow and a developing partnership between Virginia-South Carolina and Ontario. I think this scenario creates some good synergies as we have the opportunity to deal back and forth with our biggest trading partner.
I would also like to highlight some changes in staffing this past year. We have added Brent Cavell and Chelsea Martin, who lead our Quality Assurance (QA) Program. Brent's overall knowledge of beef production, marketing and feed production will be essential as we move our industry forward. Besides doing the on-farm audits as part of the QA program, Chelsea represents the brand at the various trade show and industry events. She has also been actively promoting our program and beef farming through our social media platforms. I also would like to thank Adam Hill for his time and work while he was employed at OCFA.
As for our team, we're fortunate to have the experience of John Baker, who is our director of business development. I give a lot of credit to John and the work that he has done to expand the reach of the Ontario Corn Fed Beef brand. We also wouldn't be where we are today without the efforts of our office manager, Wendy Clements.
In closing, I would like to thank everybody in the entire agricultural sector who have partnered with us and supported us and our program. I'm so fortunate to be in a position where I have the opportunity to lead and be part of the growth of the Ontario Corn Fed Beef brand. It's rewarding to see the various pieces fit together and see the positive results. It would not be possible without the backing we receive from the industry. I would like to express my thanks for the support we have received from the Beef Farmers of Ontario, the Government of Ontario and the Grain Farmers of Ontario. Thanks also go out to the board of directors and the staff for their support and for believing in what I do to make the Ontario Corn Fed Beef Program a success story for our entire industry.
Respectfully submitted,
Jim Clark
Executive Director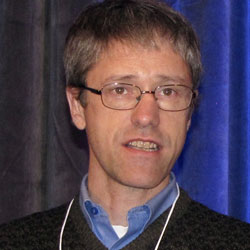 Steve Kell, Business Manager Branch Grain, Parrish & Heimbecker
Steve Kell has been in the grain and feed business in Ontario for close to 30 years.
For the past 19 years, he was a Grain Merchant for Parrish & Heimbecker Ltd. in
Toronto, specializing in corn, canola, and cereal grain trading and producer grain
marketing.
Highly sought out for his market analysis, Steve is a frequent speaker at
agricultural meetings and conferences throughout Ontario. He also writes a
monthly column on the grain markets for Farmers Forum.
In addition to his work as a market analyst, Steve operates 1,200 acres, partially as a beef and cash crop operation south of Barrie, and in share-cropping arrangements in Elm Creek, Manitoba, and Temiskaming, Ontario.
Steve is a graduate of both the University of Guelph, (BA), and the Ontario
Agricultural College, but most importantly, from the school of hard knocks.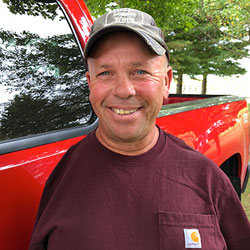 Andy Detwiler farms with his father in midwestern Ohio, raising corn, soybeans and a small herd of Boer goats. He and his wife, Corkey, have a 22-year-old daughter, Kylie. Andy describes himself as a typical Midwestern farmer, but with one exception. When he was two years old, he lost both arms in a farming accident. Since then, he taught himself to use his feet like hands.
Andy, with the help of Kylie, started sharing his story on social media channels such as Facebook and YouTube. Known as the Harmless Farmer on YouTube, Andy shows how he has embraced his life and farming without arms. His story has quickly become a YouTube sensation and has been a source of inspiration to his audience.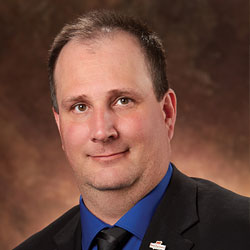 Joe Hill, President Beef Farmers of Ontario
Joe Hill and his family run a feedlot operation in Centre Wellington near Fergus and Elora. Here, the family of four operates a 200-head, short-keep feedlot and also runs 800 acres of owned and rented land in corn, soybeans, wheat and hay. Joe has always been eager to seek new opportunities having attended numerous workshops covering topics such as government relations, media relations, successful meetings, and training for directors. Joe also represents BFO as a Director for the Canadian Cattlemen's Association.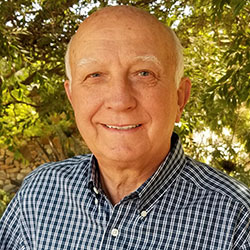 Ron Hanson currently holds the title of Harlan Agribusiness Professor Emeritus at the University of Nebraska-Lincoln. Professor Hanson accomplished a 46-year agribusiness teaching and student advising career that earned 31 university and national award recognitions. Ron was selected as the Outstanding Ag College Instructor, received the John Deere Agribusiness Teaching Award of Excellence, and was named as the University Educator of the Year.
Ron was the first University of Nebraska professor to receive the prestigious USDA Excellence in University Teaching Award from the U.S. Department of Agriculture, which is the top-ranking national teaching honour granted in the area of agricultural and food sciences. His highest career honour was earned by being named the Nebraska Professor of the Year by the Carnegie Foundation.
Ron was raised on an Illinois family farm and earned his undergraduate degree from Western Illinois University and his graduate degrees from the University of Illinois. He counselled with Nebraska farm families for more than 40 years to help them resolve family conflicts in a more positive manner and to improve family relations through better communications. He has been honoured by the Nebraska Ag Youth Council, Nebraska Farm Bureau, Nebraska Agricultural Leadership Council and the Nebraska FFA Foundation for his dedicated service to both rural youth and farm families.